Exterior Painting Contractor in Portland, OR
Siding - Exterior Trim - Decks - Fences - Doors and Windows
The layers of paint on the exterior of your home are more than just something nice to look at. They provide an essential layer of protection for your home against the elements. Let's face it, you need to protect your investment. You need to make sure that the outside of your house is water-tight to protect the structure from rot & pests to keep the inside from getting ruined.
Enter your information and Matt will call you right back to set up an appointment!
Call today and talk to Matt to get the ball rolling and schedule your exterior paint job.
If you have an existing paint color you want to use, we will take a sample to the paint store and get an exact match. We might advise you on a particular type or brand of paint depending on the siding and other exterior features of your home.
With Murrayhill Painting the process is as smooth as the final coat of paint. Once the project is finished you will have a beautiful exterior that adds to the curb appeal and overall value of your home.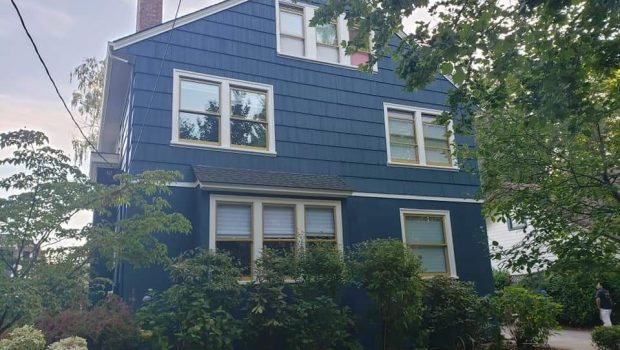 Once we are finished you will have a beautiful exterior that adds to the curb appeal and overall value of your home.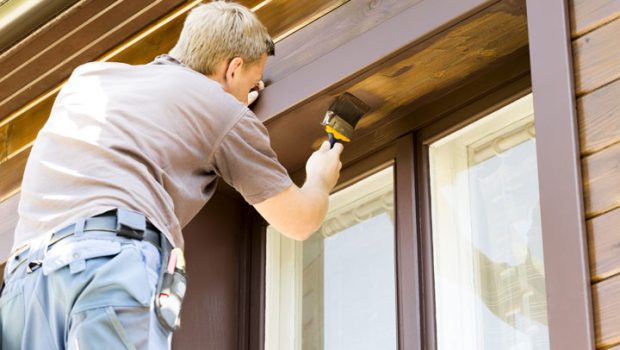 Trim offers an opportunity to add contrast and accent the colors you've chosen for the roof and siding.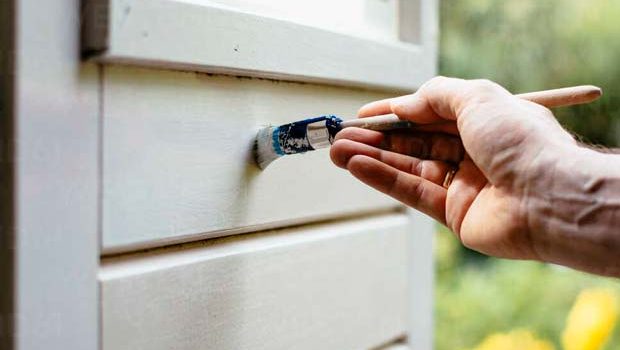 Your doors & windows will look brand new and you'll notice how great they look every time you enter your home.
"The painting crew from Murrayhill Painting was impressive. The guys were careful and neat, and finished the job on time as they said they would. They arrived on time every morning, were cheerful and professional, and cleaned up after themselves each day."

- Marcia
"This company is top of the line for interior/exterior painting. The owner is very professional and goal oriented. He is so focused on meeting the homeowners/General contractor expectations on quality and timelines. He is very hands on and has a great crew."

- Teisha Duffey
"I've known Matt for years and his company up here in Washington has painted a few homes for me, we work well together especially when it comes color choices! I know if I ever had a problem he would be right on top of it! So if you want an honest job for an honest rate go with this company, you won't be disappointed!!!"

- Cliff Whitmore
"Murrayhill Painting LLC did a fantastic rescue job of some horrifically bad work done by a preceding painting contractor whom I fired. Murrayhill's restoration was epic. Millwork paint laid down like glass. Excellent stain work and cabinet painting. Every member of the crew is a highly skilled, quality conscious professional. This is not a team you have to watch, or coach, or correct. Craftsmen quality, not workman quality. I intentionally picked top bid, not low bid, and still got more than I expected."

- John Upton
"We had to paint a few interior ceilings at our house and Matt was referred to us by a Realtor in Portland. Matt showed up the next day to walk the house. He was highly professional and provided valuable feedback on the job scope and what type of paint was best. Matt scheduled our painting immediately and did an excellent job. All of this and he tied for best price out of three painting proposals. Matt will be our first call for any future painting!""

- John Rassier
"Matt has been a pleasure to work with and the attention to detail of the craftsmen always makes us look great."

- Lloyd
"The Murrayhill estimating and install teams are very professional and easy to work with. They show up on time, every time and always are in great communication from start to finish. Their installers are very detail oriented when it comes to protective coverings and take the time to install the paint carefully and thoughtfully. They also make multiple trips to touch up paint and provide client care after their work is complete. "

- Courtney
"Matt and his team did an excellent job painting our interior walls and all of our kitchen cabinets in our new house. Our business rep, Matt Duffey, as well as the painters themselves were great to work with. Pricing was very competitive for the quality of work. They even sent out a professional Color Consultant to help us choose our colors."
- Scott

"Matt and his team did an excellent job on my personal residence. He was on time, provided an accurate bid for which he delivered on, and provided timely updates. As a result of this experience, I've hired him to work on another exterior project too."

- Michael Knapp
"Matt and his team painted my 100 year old two story house and detached shop. My house is complicated and needed lots of prep work from all the chipping, etc. the result of my experience: Highest quality work you will ever find! Matt and his team have great attention to detail and do impeccable work. I'm so thankful my home is so beautiful now!!"

- Christine Joy
"QUALITY and DEDICATION! Those are understated words when describing Matt's work. He was by far the best painter we have ever worked with and my husband is a builder...so we have a LOT of experience with painters! He will over service and over perform any job you send his way!"

- Mauri Tamborra
"Wow! Just wow, we had a tight timeline to get painting done before our new floors went in, Matt and his team went out of their way to ensure out project got done and on little notice. They were meticulous in their work, and the final product exceeded my expectations, they have found a customer for life! Just an outstanding business, crew, and work ethic! Thank you!"

- Kassie Bonnell
High-end Remodeling and Painting Services
Painting is often a large part of the remodeling process. If you are putting together a remodeling project and are looking for a good painting contractor, look no further. Our team at Murrayhill Painting is very experienced working with general contractors and homeowners to carry out the painting portion of a remodeling project.
If you have PDF Plans, we can take a look and provide an estimate for our portion of the project. If you are still exploring ideas, it's still okay to contact us. We work with the best remodelers in the area and can certainly help you get connected with the right people to carry out your project.
Exterior Painting - Before and After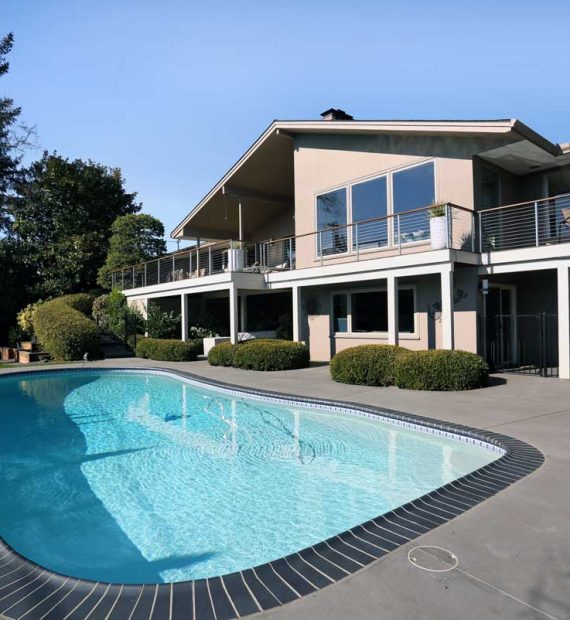 The siding on your home is not just there to look good, it's there to provide a durable, waterproof layer that protects your home & investments from the elements.


Paint technology has advanced over the years and the paints being made these days are very strong and long-lasting. The time it takes to paint exteriors has been reduced dramatically with the advent of air-powered sprayers that make it a lot easier for a person to cover a large surface area with paint.


If you have a color and type of paint you use already, we can return to the source and get what we need to finish the job. If you are looking for a new color, we'll make sure you get to see the best options available to you and will lend you our eye for design to make sure you're making the best choice possible.


When it comes time to apply the paint, we'll mask off the areas that don't need to be painted and apply multiple coats to ensure a smooth, durable finish.
Depending on the design aesthetic you're going for with the exterior of your home, trim offers an opportunity to add contrast and accent the colors you've chosen for the roof and siding. Even your landscaping can play a role in the colors you choose for the outside trim.
Exterior trim will be sealed with a durable, waterproof sealant to make sure there are no cracks for water to enter your home.


If necessary, windows and other areas will be masked off to ensure that no paint gets where it's not meant to go.


Our highly skilled painters will apply the appropriate number of coats to get the look and finish we're after and leave your exterior trim looking fantastic.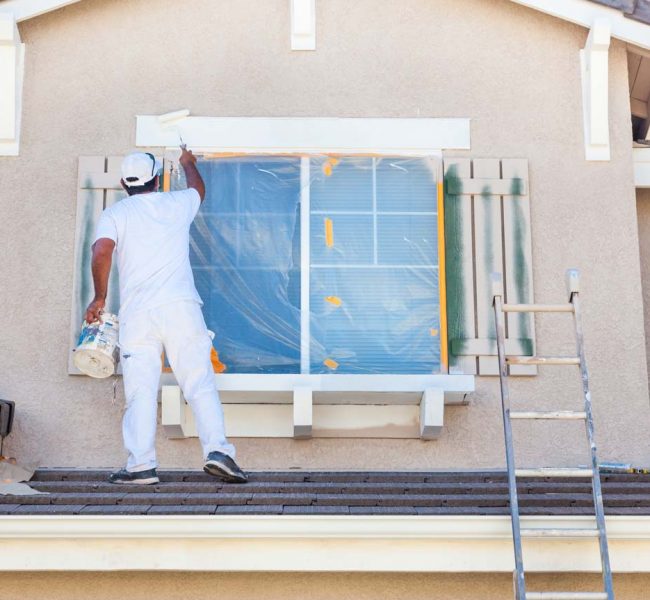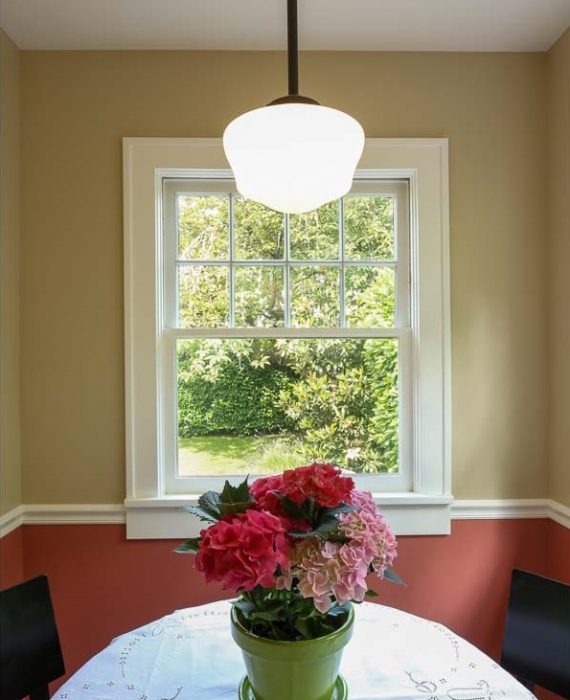 The exterior doors and windows are what connect the inside with the outside. It's important that they look visually appealing as you will be looking at them, or through them, all the time. What's even more important is that they are weatherproof and provide a water-tight seal when they're closed.

When we paint your doors, we'll carefully remove them from the frame so we can get a consistent coat of paint all around. We'll pay careful attention to the hinge slots and mask them off so we don't build up too much material and cause your door to be too big for the hole and not be able to shut properly. We'll paint the frame in place and be careful to mask the surrounding area and not get paint anywhere it shouldn't be.

Windows are very similar. We'll remove the parts we can and carefully mask the glass so we can preserve the transparency even close to the frame. We'll mask off the areas around the frame and apply just the right amount of coats to get the look and weather protection we're after. By the time we are finished, your doors and windows will look brand new and you'll notice how great they look every time you enter or exit your home.
Need Painting Services?
...Something Else?
Call or Text now or fill out the form below to request a callback!